The opening ceremony of Bakson Homoeopathy Medical College is scheduled to take place at the University of West London, Boston Manor Road, Brentford, TW8 9GA on 7th June 2017, 5-7 PM.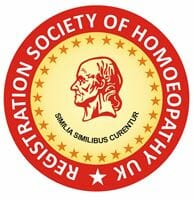 Courses
Two years Diploma in Homeopathic System of Medicine (D. Hom.)
One Year Advance Diploma in Homeopathic System of Medicine (D. Hom.)
One Year Post Graduate Course in Homeopathy (PG Hom.)
It is with great pleasure that we announce the inception of a new chapter in the history of homoeopathy. We, the Registration Society of Homoeopathy, United Kingdom (RSH UK) in collaboration with Dr. KPS Bakshi Memorial Trust, India (the parent body of esteemed Bakson Homoeopathic Medical College, Greater Noida, India) invite your gracious presence for the opening ceremony of the "Bakson College of Homoeopathy, United Kingdom".
Why Bakson College of Homoeopathy, UK?
With the advancement in homoeopathic education, there is an urgent need to reform the education standards. Homoeopathy is loaded with hidden treatise which must be brought into the limelight. Such noble cause can only be feasible through quality and scientific education.
Homoeopathy is now the second largest practised system of medicine around the world. Every year millions of people opt homoeopathy for good health and tackling various diseases and thousands of people develop a keen interest to study homoeopathy.
Through this college, our aim is to provide scientific, quality, authentic and state-of-the-art education so that we can propagate homoeopathy with a good cause and practice it with high standards.
About Bakson College India
Bakson Homoeopathic Medical College was founded by respected Late Dr. Kripal Singh Bakshi Memorial Trust. Dr KPS Bakshi was not only an inspiration but a legend who is still alive in his teachings. His son Dr. SPS Bakshi took over the charge of college and brought it as one of the pioneer educational institutions in India. Since its foundation, students from India and abroad do Undergraduate and Post Graduate courses from the college and pass out as confident Medical doctors. Bakson Homoeopathic Medical College is known for its high standards, developing new teaching methods and keeps abreast with the new research in homoeopathy. The College is amongst the most popular homoeopathic institutions in India serving since last 15 years.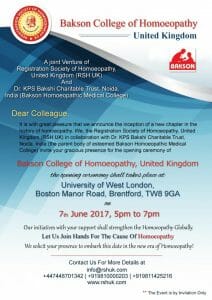 Bakson College of Homeopathy UK (BCHUK) is an extension of the passion towards homoeopathy in the UK. Through this college, our aim is to educate the intellectual minds in right direction and enable them to be practitioners of the healing art.
The College has to his credit a learned faculty, international as well as national academic staff, highly qualified homoeopaths, pharmacists, and veterinarians thus adding to the wide array of intelligent minds focussing at one place.
BCHUK is proud to be associated with Registration Society of Homoeopathy, UK, an international, registered association for the accreditation of homoeopathic professionals by virtue of professional memberships and education.
Contact
For Courses/Classes and General queries please get in touch with us at
UK Office
Bakson College of Homoeopathy, UK
427, Great West Road, Hounslow
London, United Kingdom, TW5 0BY
India Office
Bakson Homoeopathic Medical College & Hospital
Plot No. 36 B, Knowledge Park, Phase-I, Greater Noida – 201306, Uttar Pradesh, India
Email: [email protected]
Phone: +447448701342, +919810000203, +919811425216
https://rshuk.com/bakson-college-of-homoeopathy-uk.html